By Paige Donner
Greening Hollywood: Maggie Gyllenhaal Steps Out on L.A.'s (Eco-) Fashion Runway
Maggie Gyllenhaal hosted The Eco-Fashion Runway show presented by Gen Art to kick off L.A.'s Fashion Week. Gyllenhaal, who is known for embracing a natural lifestyle and is particularly interested in supporting the growing trend of eco-friendly fashion, noted "lots of short skirts and amazing fabrics made out of bamboo," at the runway show staged inside The Petersen Automotive Museum.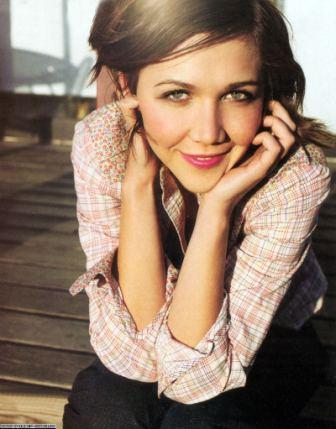 Eco-where? was the question to ask of the runway show's fashions such were the designs so
au courant.
Only when it was blatantly pointed out (which it was!) that these designers use organic and sustainable fabrics and business methods, was the "eco" side to the designs in evidence.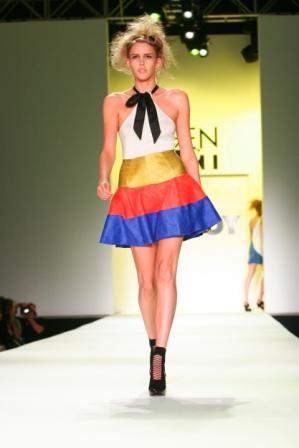 Velvet Leaf Design
Featured designers were
Velvet Leaf
which showed a predominantly silk line by sisters Laura and Becky Carter, 21 and 23 years old;
The Battalion,
also created by a sister team, Chrys and Linda Wong, exhibited an exotic edge with its Anais Nin inspired theme;
Popomomo,
the design label of Silverlake's Lizz Wasserman, featured knee socks, ankle socks, stirrup socks paired with sandals and kitten pumps and dresses made from natural Soy Jersey;
Brigid Catiis
crafted her collection of short dresses with backties, sashes and bandeaus as "the fresh, the chic, the bold."
Gen Art was inspired to stage this first showcase of all eco, natural fashions because, "fashion is not just what you put on but what you put in your body." The Battalion uses only organic fabrics and emphasizes its use of bamboo, cotton blends and cruelty-free silk. It's known for soft drapery fabrics and comfort knits and jerseys.
The sisters Wong were determined to design a high-end, very wearable eco-friendly line that was fashion-driven. "We want to combine social and cultural issues into our fashion line. For this line we were inspired by the 80's New Wave, Flamenco dancing, rock-n-roll music and retro romanticism lifted from our readings of Anais Nin literature," they said. Their showstopper piece was the floor-length, all-white Flamenco ruffle evening gown with headdress/veil that had an Egyptian feel to it. It was cut from Bamboo Jersey.
www.thebattalion.us
Popomomo's runway show was a comment on the impact of current events on fashion. "I used a lot of socks and legwear. This season it will be all about separates and accessories, pieces people can afford to add to their wardrobe. When I lived in New York, I was all about tights, but LA is too hot for tights!" said this bio-diesel-driving designer. Wasserman also added that when she's designing her line, "I start with my design ideas. Sometimes those ideas are curtailed by the fabrics I find but this time I found what I was looking for. You can't convince someone to wear a nasty fabric even if it's organic."
www.popomomo.com
The Carter sisters, the brains and creativity behind Velvet Leaf are all about sourcing. "If you want to care about the environment, care about the labor that goes into making your goods," they said. Their line this season used a lot of raw silk and silk jersey which they source from a fair trade co-op in Cambodia operated by women. "So, basically, we're supporting a community of women in Cambodia," they said. They prefer to get their silk from the fair trade co-op rather than a country like China, they said, so they can be sure that the laborers who are gathering and processing the silk are treated fairly and humanely. "We like to be socially responsible as well as environmentally friendly," they said.
www.velvetleafclothing.com
\
Mallyce Miller is another young designer showcased by Gen Art's "Fresh Faces in Fashion" but not in the eco-wear category. Nonetheless, when she chose her plaid and flannel fabrics for last year's line, she opted for an organic bamboo fabric. "I'm clued in to what young people want, which is why I used plaids and flannels and chose a bamboo-based fabric," she said. She added that as eco-fashion becomes more popular as a trend, it will allow designers more ready choices in eco-friendly fabrics which will translate in competitive pricing for consumers. Also, she stays away from leather and fur and looks for shoes made out of other materials, such as Natalie Portman's line of vegan footwear.
www.laekencollection.com
The event was co-sponsored by
360 Vodka
which is an eco-friendly vodka. Their Close The Loop Campaign donates $1 to charity for every bottle top mailed back in to the company after use. Their bottles are made from 85% recycled glass.
Follow Paige Donner on Twitter: www.twitter.com/greeninghollywd