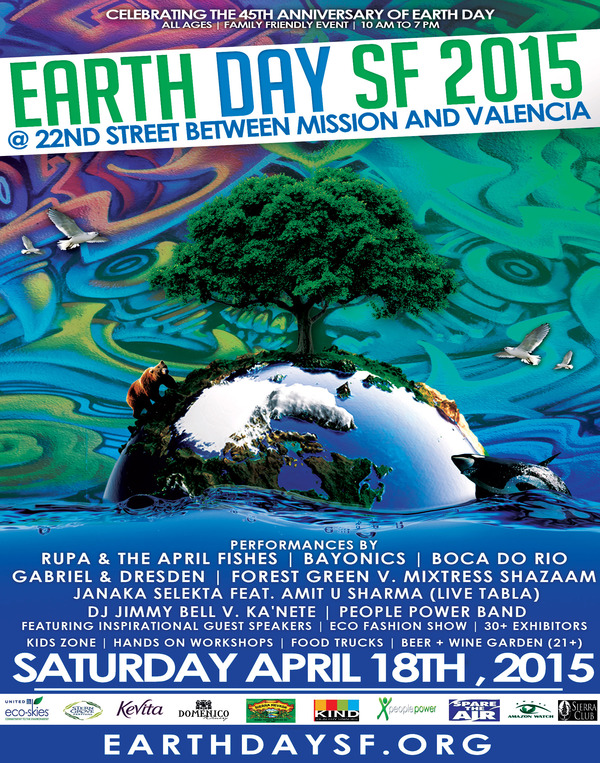 "We both love nature and are proud to be a part of such a wonderful celebration of positive ideas."
- Gabriel and Dresden

"On this beautiful Earth Day 2015 let us take a grateful moment to be thankful to our beautiful mother earth, from which life is born and nurtured. Let us work harder and with more thought and compassion to take care of her and keep her safe and clean. Let us work to teach, inform, and kindly pass on ways in which we can conserve, preserve and care for the health of mother earth, which in turn is all our health, as well. Let us be more thoughtful that we are all one, unified here on our lovely mother earth, and that it is each and every one of our responsibilities to her and to one another to care for our amazing home! Let us strive to make each and every day a step in a more positive, healing and healthy direction for our spectacular home, the Earth, ourselves, and all that share our extraordinary home, Mother Earth! Happy Earth Day San Francisco! We love you Earth!"
- Love, peace and light, Forest Green

"For me, Earth Day is about raising awareness. There are so many great people and amazing movements working towards environmental/biological re-alignment and Earth Day is a time for those movements to grow and ideas to spread. It is a time to inform, ideate, and innovate."
- DJ Mike Teez
In Celebration of the 45th Anniversary of Earth Day, we are happy to present the Earth Day SF Street Fest!
Located in the heart of the most culturally rich neighborhood in the city, "The Mission," Earth Day SF unites Artists, Activists and Amazing Entertainers all dedicated to promoting the protection and preservation of our Beloved Mother Earth and all of her inhabitants. This one-of-a-kind event promises to be a robust celebration of everything "Green, Fun and Sustainable."
Join us on Saturday, April 18th from 10 am to 7 pm as we take to the streets and celebrate Earth Day San Francisco style.
SCHEDULE OF EVENTS:


Join in the fun at Grove on the Road at Earth Day, where 22nd Street and Valencia Street meet!

Enjoy live, admission-free performances, interactive arts workshops for all ages, and celebrate Earth Day San Francisco and the 45th Anniversary of Earth Day

Performances:

Rupa & the April Fishes​
5:00 - 6:00 p.m.

Bayonics​
3:15 - 4:15 p.m.

Boca do Rio​
1:30 - 2:30 p.m.

All-Ages Workshops:

Drumming with BoomShake! Music
2:30 – 3:15 p.m.

Brazilian Dance with Tika Morgan
12:00-1:00 p.m.

Instrument Exploration Station
12:00 - 5:00 p.m.
 
PLANET DANCE SCHEDULE OF EVENTS
22nd and Mission Street stage

10:00 AM Welcome to Earth Day SF 2015 
DJ Mike Teez

11:55 AM Earth Day Message

12:00 PM People Power Band

12:45 PM Guest Speakers
Mona Lisa Wallace, Esq., Civil and Environmental Rights Activist
Valerie Ibarra, Radio Host and Producer of Women's Magazine
Pam Larry, Northern CA Director of Label GMO's
Monica Lopez, March Against Monsanto
Stacy Malkan, Co-Founder of Campaign for Safe Cosmetics

1 PM Eco Fashion Show presented by Shirin Hashem

1:30 PM Guest Speaker
Smita Paul, Founder of Indigo Handloom

1:40 PM Janaka Selekta featuring live tabla player Amit U Sharma

2:30 PM DJ Jimmy Bell vs. Ka'Nete

3:20 PM NON PROFIT SPOTLIGHT: 
Leila Salazar-Lopez, Executive Director of Amazon Watch
Jess Dervin-Ackerman, Conservation Program Manager of Sierra Club SF
Maureen Perron, Co-Founder of Save Our Planet

3:45 PM KEYNOTE SPEAKER: John C. Roulac, Founder and CEO of Nutiva
"The Solution Under Our Feet: How Regenerative Organic Agriculture Can Save the Planet" 
Friends of the Urban Forest "Most Greenified Neighborhood" Award

4:00 PM Forest Green v. Mixtress Shazaam

5:00 PM Gabriel and Dresden

6:00 PM Cellspace Procession
Closing Remarks
DJ Mike Teez

Official Earth Day SF Pre and Post Events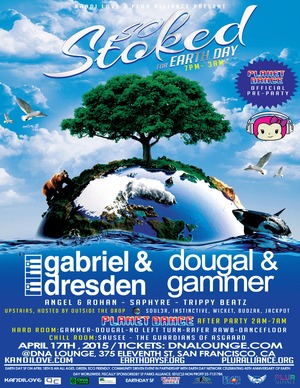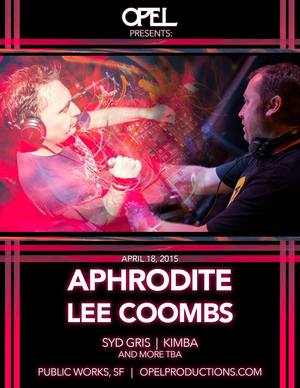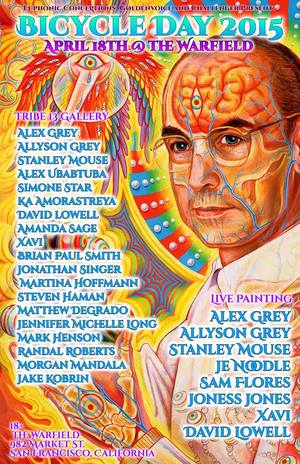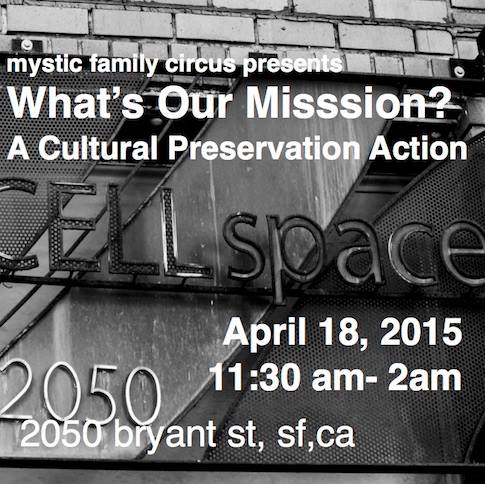 Thanks for the support Rock the Earth, Bicycle Day, Opel Productions, Plur Alliance, Kandi Love, and CELLspace!

We'll be raffling off 2 VIP tickets to Bicycle Day and
2 General Admission tickets to Opel's event at Public Works at the Planet Dance stage

Thanks to our over 35 Fantastic Earth Friendly Exhibitors, Green Team, Media Partners, and all the love received across the Bay Area. 

Last but not least, a very special thank you goes out to
Earth Day SF 2015 Sponsors -- 

UNITED ECO SKIES
KEVITA
KIND SNACKS
ENERGY UPGRADE CALIFORNIA
smart car
PEOPLE POWER
SPARE THE AIR
SIERRA NEVADA
DOMENICO WINERY

Earth Day SF is so grateful to have your support of this year's event and can't wait to celebrate with you!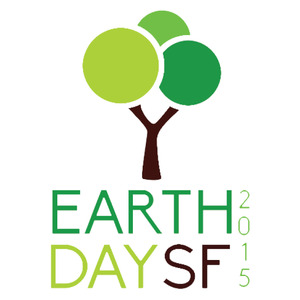 ​
Green Blog Network
 * 
Greening Hollywood
 *